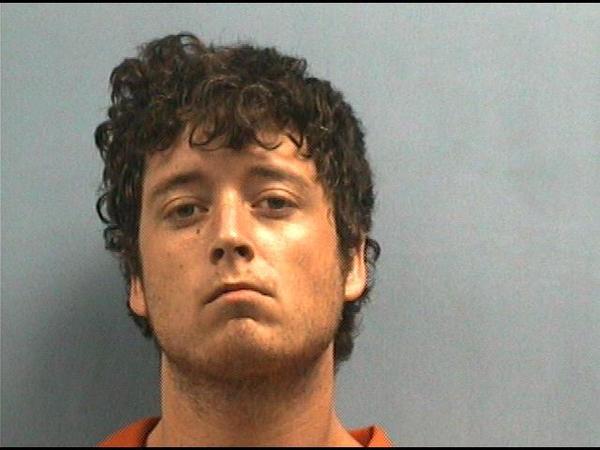 Timothy Redfield
UPDATE
27 year old Timothy Redfield was formally charged today, August 9th, 2013, in the pursuit involving the Harrison Police Department, Arkansas State Police and the Boone County Sheriff's Office on August 7th, 2013.
Sgt. Nathan Jenkins was injured during this pursuit and remains hospitalized at Cox Medical Center in Springfield Missouri.
Redfield is being charged with Battery 1st Degree, Aggravated Assault, Felony Fleeing in a Vehicle, DWI Drugs, Theft by Receiving, Driving on a Suspended Driver's License, Speeding, Reckless Driving, Ran Red Light, Littering Highway, Improper Lane Change, and Resisting Arrest.
Redfield's bond was set $500,000.00 and remains in the custody at the Boone County Jail pending his court appearance.
Sheriff Mike Moore reports that on Wednesday, August 7th, 2013, at approximately 8 p.m., the Boone County Sheriff's Office was notified by the Arkansas State Police that they were pursuing a vehicle on U.S. Highway 65 traveling north bound from the Harrison City Limits. Officers from the Harrison Police Department discovered the vehicle, a 2006 Ford U-Haul truck, was stolen out of Springfield, Missouri. When Officers attempted a traffic stop on the vehicle, the driver refused to stop.
Officers with the Boone County Sheriff's Office, Arkansas State Police, and the Harrison Police Department gave chase and followed the vehicle to the Arkansas and Missouri State line where Officers from the Taney County Sheriff's Office and the Missouri Highway Patrol took over the pursuit.
The vehicle then traveled to Branson, Missouri, where it turned around and began traveling back to Arkansas. The vehicle sped southbound in the northbound lanes of U.S. Highway 65 with Officers trying to deploy spike strips to stop the vehicle. As the vehicle approached the twin bridges on U.S. Highway 65 North, Sgt. Nathan Jenkins of the Boone County Sheriff's Department, who was pursuing the vehicle, lost control of his vehicle in the rain, and struck an oncoming 18-wheeler. Sgt Jenkins was taken to Cox hospital in Springfield, Missouri for injuries he sustained in the accident.
The vehicle and driver were apprehended a short time later near Omaha, Arkansas. The driver, 27 year old Timothy Redfield of Mountain Home was taken into custody and transported to the Boone County Jail. Redfield is awaiting formal charges in this case.