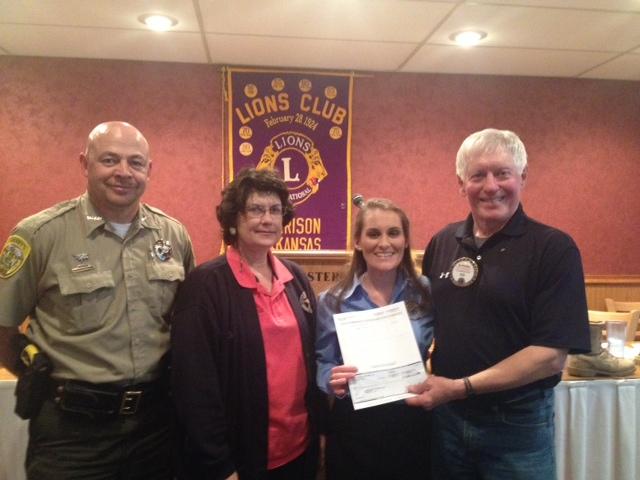 Sheriff Mike Moore, Donna Blackwell
Kandi Wilson and Ron Richardson
The Boone County Sheriff's Office is excited to announce that the Harrison Lions Club has donated $5000.00 to Project Loved One, which was presented by Ron Richardson to Kandi Wilson, Sheriff Moore and Donna Blackwell this week. This money will be used to purchase radio equipment for the program. Our office is currently working with several vendors to find the right equipment that will best serve Project Loved One applicants and their families. This equipment will be purchased right away now that we have enough funds to proceed with the project.
The Harrison Lions Club is comprised of members of the county and they contribute their resources and time to the benefit of others. Contact the Harrison Lions Club to obtain more information about their programs. This club meets on Wednesdays, 12 noon, at the Western Sizzlin restaurant.
Project Loved One was established by the Boone County Sheriff's Office in an effort to provide services to persons who suffer from neurological disorders such as Alzheimer's, dementia, or any mental impairment. This service is provided at no cost to the public and will not only assist local law enforcement, but any law enforcement agency that may come into contact with a person who has previously registered for the program. This service is available to all age groups and is completely free of charge.
This program was designed to assist any person or family with a loved one, who for any reason, may become lost or wander away from where they are supposed to be. A family member of the person or a concerned adult can contact the Boone County Sheriff's Office at 870-741-8404 to schedule an appointment to register their loved one. All registrations will be conducted on Wednesdays from 8:00 a.m. until 2:00 p.m. at the Sheriff's office.
We also want to remind everyone that the 2nd Annual Project Loved One Golf Tournament will be April 28 at the Harrison Country Club. Details can be obtained from Kandi Wilson at the Sheriff's Office 870-741-8404
Sheriff Mike Moore and the staff of the Boone County Sheriff's Office would like to express our gratitude to the Harrison Lions Club for their generous donation to the Project Loved One Program.